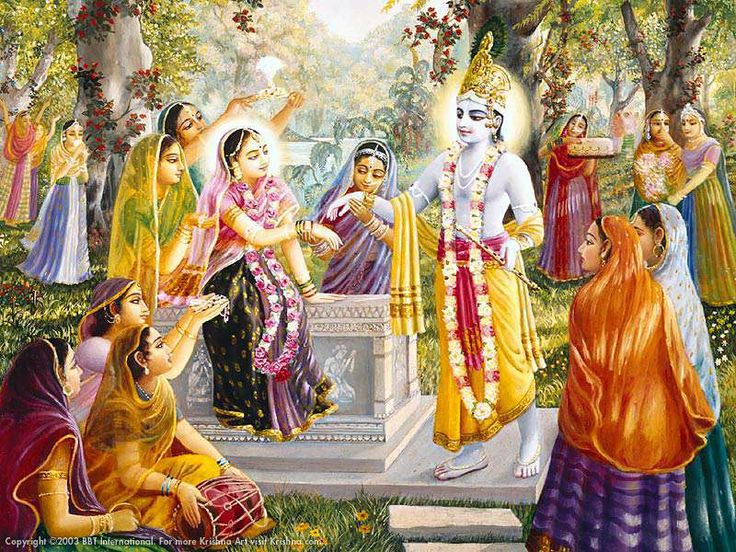 Seeing the personal form of the Lord and experiencing ecstasy will happen to us all--here is that description-we just have to be patient.
SB 1.6.16-As soon as I began to meditate upon the lotus feet of the Personality of Godhead with my mind transformed in transcendental love, tears rolled down my eyes, and without delay the Personality of Godhead Śrī Kṛṣṇa appeared on the lotus of my heart.
PURPORT-The word bhāva is significant here. This bhāva stage is attained after one has transcendental affection for the Lord. The first initial stage is called śraddhā, or a liking for the Supreme Lord, and in order to increase that liking one has to associate with pure devotees of the Lord. The third stage is to practice the prescribed rules and regulations of devotional service. This will dissipate all sorts of misgivings and remove all personal deficiencies that hamper progress in devotional service.
When all misgivings and personal deficiencies are removed, there is a standard faith in transcendental matter, and the taste for it increases in greater proportion. This stage leads to attraction, and after this there is bhāva, or the prior stage of unalloyed love for God. All the above different stages are but different stages of development of transcendental love. Being so surcharged with transcendental love, there comes a strong feeling of separation which leads to eight different kinds of ecstasies. Tears from the eyes of a devotee is an automatic reaction, and because Śrī Nārada Muni in his previous birth attained that stage very quickly after his departure from home, it was quite possible for him to perceive the actual presence of the Lord, which he tangibly experienced by his developed spiritual senses without material tinge.
SB 1.6.17--O Vyāsadeva, at that time, being exceedingly overpowered by feelings of happiness, every part of my body became separately enlivened. Being absorbed in an ocean of ecstasy, I could not see both myself and the Lord.
PURPORT-Spiritual feelings of happiness and intense ecstasies have no mundane comparison. Therefore it is very difficult to give expression to such feelings. We can just have a glimpse of such ecstasy in the words of Śrī Nārada Muni. Each and every part of the body or senses has its particular function. After seeing the Lord, all the senses become fully awakened to render service unto the Lord because in the liberated state the senses are fully efficient in serving the Lord. As such, in that transcendental ecstasy it so happened that the senses became separately enlivened to serve the Lord. This being so, Nārada Muni lost himself in seeing both himself and the Lord simultaneously.
SB 1.6.18--The transcendental form of the Lord, as it is, satisfies the mind's desire and at once erases all mental incongruities. Upon losing that form, I suddenly got up, being perturbed, as is usual when one loses that which is desirable.
PURPORT--That the Lord is not formless is experienced by Nārada Muni. But His form is completely different from all forms of our material experience. For the whole duration of our life we go see different forms in the material world, but none of them is just apt to satisfy the mind, nor can any one of them vanish all perturbance of the mind. These are the special features of the transcendental form of the Lord, and one who has once seen that form is not satisfied with anything else; no form in the material world can any longer satisfy the seer. That the Lord is formless or impersonal means that He has nothing like a material form and is not like any material personality.
As spiritual beings, having eternal relations with that transcendental form of the Lord, we are, life after life, searching after that form of the Lord, and we are not satisfied by any other form of material appeasement. Nārada Muni got a glimpse of this, but having not seen it again he became perturbed and stood up all of a sudden to search it out. What we desire life after life was obtained by Nārada Muni, and losing sight of Him again was certainly a great shock for him.
SB 1.6.19-I desired to see again that transcendental form of the Lord, but despite my attempts to concentrate upon the heart with eagerness to view the form again, I could not see Him any more, and thus dissatisfied, I was very much aggrieved.
PURPORT-There is no mechanical process to see the form of the Lord. It completely depends on the causeless mercy of the Lord. We cannot demand the Lord to be present before our vision, just as we cannot demand the sun to rise whenever we like. The sun rises out of his own accord; so also the Lord is pleased to be present out of His causeless mercy. One should simply await the opportune moment and go on discharging his prescribed duty in devotional service of the Lord. Nārada Muni thought that the Lord could be seen again by the same mechanical process which was successful in the first attempt, but in spite of his utmost endeavor he could not make the second attempt successful. The Lord is completely independent of all obligations. He can simply be bound up by the tie of unalloyed devotion. Nor is He visible or perceivable by our material senses. When He pleases, being satisfied with the sincere attempt of devotional service depending completely on the mercy of the Lord, then He may be seen out of His own accord.
Some Conclusions—The Christians say "no man has seen God" and yes that is true for  "ordinary men", but not for those who are pure devotees of the Lord. They see God constantly and everywhere because their eyes are tinged with the salve of love.